The WB recently dished out details about this year's four-way crossover event between The Flash, Arrow, Supergirl, and DC's Legends of Tomorrow, which will begin airing on Monday, November 27.
After the success with last year's crossover, the CW is hoping to capitalize on the special event. CW president Mark Pedowitz told reporters at the Television Critics Association's summer press tour, "Last year's crossover was the most successful week, I believe, in CW's history in terms of the ratings and all that goes with it. We've had a lot of conversations with the executive producers, the studio, our scheduling people, and we thought this was a tight, concise way to do it. And next year, we may go back to four nights."
Read on to learn more about the event, but beware of minor spoilers ahead!
---
1. The Event Will Be Called 'Crisis on Earth X'
The crossover has been titled "Crisis on Earth X".
Last year's was titled Invasion, inspired by the 1989 miniseries Invasion, and involved Barry Allen recruiting Supergirl, Oliver Queen, and the Legends, to help him take on an alien race known as the Dominators.
---
2. It Will Air Monday November 27 & Tuesday November 28 on the CW
This year, the crossover event in the Arrow-verse will last two nights instead of four.
The show will begin with an episode of Supergirl followed by an episode of Arrow. (Arrow will air on Monday night.)
Tuesday night will begin with The Flash at 8pm ET/PT, followed by Legends of Tomorrow. Last year, even though the crossover lasted four nights, it only took place over three episodes. This year's will be bigger, as it is a full, four-episode crossover.
Specific details have yet to be revealed, but this post will be updated with more information as it becomes available.
---
3. Production Began September 22, 2017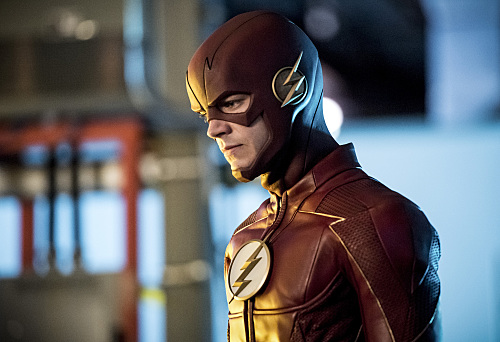 'Crisis on Earth X' started filming Friday, September 22, 2017.
Last year's crossover, Invasion!, was the third annual Arrow-verse crossover event. Development for began in May 2016 after the announcement that Supergirl was moving to the CW from CBS was made. Filming took place in October 2016.
Invasion! did extremely well for the CW; it was the network's most watched event in six years. The Flash had a season 3 high in terms of viewership, and the largest since December 9, 2014.
---
4. The Plot Shows Superheroes Coming to Town for Barry and Iris' Wedding
The four-episode event will center on superheroes coming to town for Barry and Iris' wedding. Nerdist writes, "The crossover, which began filming Friday, will feature the wedding of Barry Allen and Iris West, as the various heroes converge for the ceremony. But that is the exact time that the twisted versions of the Flash, Arrow, and Supergirl from Earth-X plan to attack and kick off an invasion of their own. That's right, it's a full blown Crisis on Three Earths!"
In a statement, E! reports executive producers Marc Guggenheim and Andrew Kreisberg as saying, "We conceived this year's crossover to be evocative of the annual Justice League/Justice Society crossovers we grew up with and looked forward to as kids."
---
5. Wonder Woman Artist Phil Jimenez Was Commissioned to Create a Cover for the Event
Artist Phil Jimenez, who is famous for his Wonder Woman art, created a custom cover for this year's crossover.
The poster itself has a lot of spoilers. Captain Cold is featured in the artwork, meaning Wentworth Miller will be back for the event. Zari (Tala Ashe), from Legends of Tomorrow, is also wearing a strange amulet on the cover.
Lastly, the poster makes it clear that Ray (played by Russell Tovey, who also voices the character) will also be introduced.