Smoking from the best rolling papers has always been a trademark of a seasoned stoner. Pros can roll anywhere from a stoplight, to in-between rounds of video games.
To keep it short and sweet, we've determined these Raw rolling papers are your best bet. You know how they feel, and they don't break the bank.
Unfortunately, rolling joints can be a downright pain in the butt. The right equipment and practice are key to rolling and smoking like a veteran.
Now, rolling papers often refer to joint papers–the typical white or beige papers Snoop Dogg or Wiz Khalifa often sport–but can also include blunt wraps.
Blunt wraps used to be taken directly from cigars (where the tobacco was stripped out, replaced with weed, and re-rolled). Nowadays, however, there are a number of unfilled wraps available.
Blunts and joints provide different types of smoking experiences, but actually require the same types of fine motor skills.
They say in order to be considered an expert, you must do something 10,000 times. Once you have the right rolling equipment (you'll be all set after reading this guide), it just takes practice, practice, practice.
Even stoney practice makes perfect. All you need is a cool lighter and bud. Go forth and roll.
Use this graphic, to determine the best type of rolling paper for you. Courtesy of Green Camp, to help decide which type of paper is best for you.
---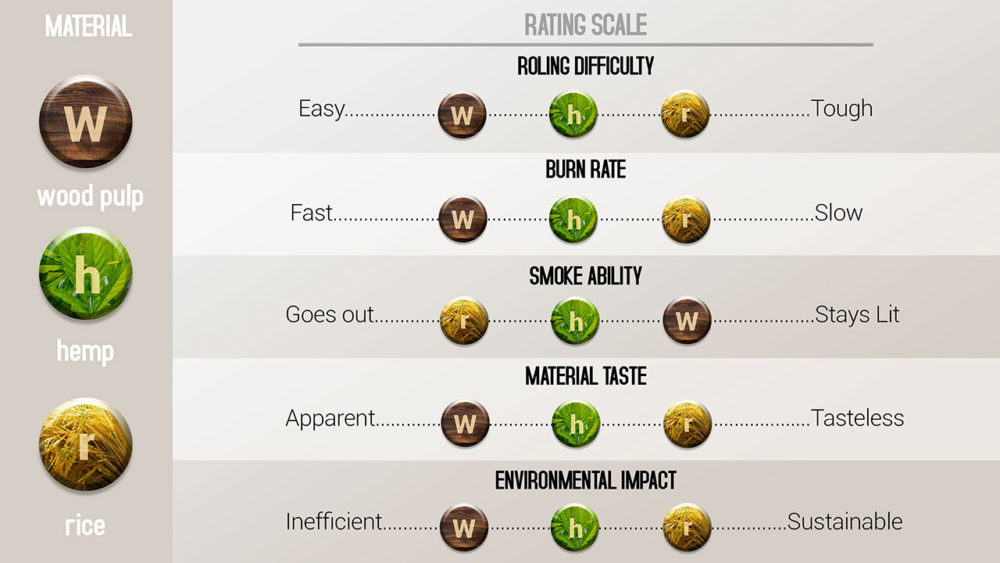 ---
Now it's time to ask the question…
What are the best rolling papers?
---
1. Raw Unrefined Classic 1.25″ – $5 for 128 papers
Pros:
Cons:

Well-known, pretty much everyone carries them
Thick enough for newbies to learn how to roll a joint
Insanely awesome price for the quality of the paper
Better overall for health of lungs

When licking to seal, if too much saliva is used, paper is ruined
If you don't lick the whole joint before use, it may burn disproportionately
---
Raw: one of the most well-known names in the rolling paper game. They've been around for more than two decades. It's super clear why they're considered the king of rolling papers.
Many joint papers are either too thin, too sticky, or too fragile. When you're learning to roll a joint, having a paper with a little give makes for a much easier time.
So, practicing with these awesome Raw Rolling papers will get you in the groove in no time. A four-pack of joint papers is definitely the way to go.
First and foremost, the price is just too awesome not to go with them. But more importantly, once you've established your rolling skills, using your favorite papers is the way to go.
Since Raw Organics is so well-known, you'll never have to worry about being unable to find your favorite rolling papers.
Seriously–they're the OG gas station rolling papers. You can find them almost anywhere, just not necessarily for this fantastic price.
If you're interested in other top-notch products from this line, be sure to check out this list on the best Raw rolling papers and accessories.
---
2. Variety Juicy Jay Flavored Rolling Papers – $14.99 for 320 papers
Pros:
Cons:

Insanely flavorful
Sturdy, easy to roll
Provides super smooth hits

Receive random flavors (which could be great)
Advertised pack includes sticker, but you may not actually receive it
---
Smoking joints is pretty fun, regardless of what rolling papers you use. But there's just something magical about a delicious blueberry flavor, intertwining with the dank of a Kush or Haze.
When you have the ability to essentially "flavor your bud", the smoking possibilities are endless. Thinking about apple pie? Spark up an apple-flavored joint. Craving cherry? Make that happen, too.
Juicy Jays are super well-known for the pop of flavor. They're relatively pricy in-store as a single pack, which is why this six-pack is such a good deal.
On top of the savings, you're expanding your smoking repertoire, by getting six separate flavors to try. They can range from maple syrup to a classic fruit blend, like strawberry kiwi.
In fact, Juicy Jay triple dips their papers, to ensure maximum flavor infusion. Your mouth will thank you. Your homies will thank you. Your wallet will thank you. You'll even thank you.
For more variety, give these other flavored rolling papers a look.
---
3. ELEMENTS 300 Rice Rolling Paper – $4.50 for 300 papers
Pros:
Cons:

Little-to-no ash
Pure bud taste
Amazing price for quality and quantity you receive
Work as great spliff (mix of tobacco & bud) papers, as well

You'll use a lot of papers if you don't have the necessary rolling skills
Paper curls with humidity, but it's 100% still usable
Difficult to use with a rolling machine
---
When it comes to joint papers, the thinner the paper, the more skill you must possess. As you reduce the thickness of the paper, you'll increase how easy it is to crinkle and crease the paper.
So, you'll definitely want to have decent rolling skills under your belt before purchasing a super thin rolling paper.
But, if you're not at that point yet, though, don't fret. Like I said before, practice truly makes perfect, especially when it comes to rolling jays.
These Elements papers are awesome. With many customers swearing they're the only paper they smoke. Each pack comes in a generous 300 leaves.
They're regular-sized papers, clocking in at 1.25″. And, they produce a unique taste: Caramel, as the sugar gum burns–the main element in the criss cross design.
Because they're thinner, each joint produces significantly less ash. You'll truly experience the taste of bud, without the distraction of a butane lighter or a thick paper.
With a smoother, cleaner taste you'll wonder why you didn't make the switch to Elemetns sooner.
---
4. Zig Zag Blunt Wraps – $28.99 for 30 blunt wraps
Pros:
Cons:

Super high-quality products
Very fresh papers
Incredibly flavorful

Random flavors, so you don't know what you'll receive
Can have harsher hits than other blunt wraps
---
At the beginning of this guide to the best rolling papers, I mentioned blunts. Blunts are cigar papers with the tobacco removed and replaced with bud.
In the old days, stoners would purchase actual cigars or cigarillos and remove the tobacco by-hand. Nowadays, you have the ability to purchase blunt wraps without all of that work.
Zig Zag is the best in terms of blunt wraps. Their wraps are delicious, without coming across as overpowering or manufactured-flavoring.
Instead, they provide a soft mix of that and the delicious flavor herb provides. Blunts are easy for newbies to learn with because they allow you to have more wiggle room when rolling.
Unlike joint papers, blunt wraps allow you to make multiple mistakes. In fact, you can play around and re-roll around five or six times, if you're really struggling. (I've been there myself).
Without a doubt, if you're looking for a more substation wrap–you definitely don't want to miss these delicious Zig Zag blunt wraps.
Of course, you may not be feeling the Zig Zags 100%. If that's the case, be sure to give these regular and king-sized blunt wraps a look, too.
---
5. RAW Classic Cones – $6.62 for 18 cones
Pros:
Cons:

Great for newbies and veterans alike
Super quick to roll
Hits very smoothly
Awesome price for quality of product

May burn a bit faster than comparable cones
May arrive slightly smashed (as with any cones)
---
Ok, ok, I know Raw was already on the list, but they produce such fantastic products they were bound to show up more than once.
This time, though, they're in the form of pre-rolled cones, for a grand total of 18 (three packs containing six pre-rolls).
Every seasoned stoner understands that physically rolling a joint can be downright tedious. So, what better way to roll up, than with a solid cone for weed?
Cones are super easy. You simply grind the bud, and pack it into the top of the cone–it's really that easy.
Instead of taking the time to use a rolling paper and manually rolling a joint, you literally just push bud down the cone and twist it off. You couldn't ask for a more simple smoking experience.
And you don't have to worry about rolling monster-sized jays, as this set of pre-rolls measures 1.25″ (and comes with a pre-installed tip!), which is a "normal" size for joint papers.
Cones are awesome, but Raw isn't the be-all, end-all. Check out these other pre-rolls for weed, for more options.
---
6. OCB Premium King Size Papers – $12.99 for 160 papers
Pros:
Cons:

Includes joint tips
Natural ingredients
Burn slowly
Fit well in rolling machines

Have a more "paper-y" taste than other brands
Will rip if too much pressure is applied in one direction when rolling
---
Ah, OCB. They're a well-known French rolling paper company, manufacturing only the highest-quality papers.
While they have a variety of rolling papers available, their King Size line definitely takes the cake. In addition natural ingredients, like natural Arabic gum, these puppies come with filter tips.
What's the benefit of a filter tip? Oftentimes, when you roll a joint, you include a piece of paper, thin cardboard, or even index card, in order to place a barrier between your mouth and the bud.
By doing this, it allows you to enjoy the joint without having some herb make its way onto your tongue. So, the inclusion of filter tips makes your joint rolling experience that much easier.
Unlike most joint papers on this list, OCBs come in a larger size: 4.25″ long x 1.77″ wide. In other words, they're pretty massive.
The good news is you can handle it in one of three ways:
Cut the papers into smaller sizes
Roll a massive jay & save it for later
Roll a massive jay & smoke it all now
Ultimately, the choice is yours. OCBs are some of the best rolling papers, for almost any smoking situation.
---
7. Shine 24K Gold Rolling Papers – $12.74 for 2 papers
Pros:
Cons:

Hits ridiculously smooth
Super slow burn
An "experience" when you smoke it – plus, it looks awesome

Only two-per-pack, so a mistake is costly
Has not been tested for health-standards – smoke at your own risk
Such an awesome product, you'll want to buy more (your pocket may not agree)
---
There comes a time in your life when you finally feel like you can splurge on some of the finer things. What better way to treat yourself than with some fun new smoking accessories.
Sure, you could buy glass, but that can be super expensive. Why not splurge on some rolling papers, instead?
Something about gold screams "I'm awesome!" Shine felt the same way, and created their 24K rolling papers.
These bad boys come in a two-pack. So, make sure you know how to roll well before investing in them, otherwise you could make an expensive rolling mistake.
You don't need to worry about receiving a replica or fake. Each pack comes with a certificate of authenticity.
Check out these other rolling papers in gold, to keep it extra bourgeois.
---
8. CAM2 Bulk Rice Rolling Papers – $16.99 for 2,000 papers
Pros:
Cons:

Amazing price for quantity received
Great lick-and-stick properties
Awesome for veteran and newbie smokers, alike
Super easy to roll

Thicker than many comparable papers (but allows for more mistakes)
You can get tired of just smoking one type of paper
---
If you regularly roll joints, you're well aware of the fact that rolling papers can be expensive. Sure, it's only $5 here or there, but it adds up over time.
The most obvious way to solve this issue is by purchasing in bulk. It's important to know, though, that you receive a quality product–you're kind of stuck with them for a while.
Cam2 is definitely a lesser-known name in the industry, but don't judge them based solely on popularity. Their joint papers ROCK!
They're unbleached, made from wood pulp, and have an all-natural gum linen. This particular pack comes in at a 78 mm size, but you have the option of 70mm and 100mm, as well.
You receive 50-packs, containing 40-papers each. This comes out to a rocking 2,000 joint papers.
---
9. Wiz Khalifa Raw Connoisseur – $13.99 for 160 papers
Pros:
Cons:

Comes with tips, packing stick, and papers
Made by Raw Oragnics–the king of rolling papers
Provide smooth hits

Have a "natural" taste
Can be difficult to roll if you're not used to thin papers
---
It goes without saying that the king of celebrity rolling papers would produce king-sized papers. So, Wiz Khalifa naturally made some monsters: they're 110 mm, and made from natural hemp gum.
Each paper is thin, so you can enjoy the taste of the bud, rather than have it hindered by a thick, flavor-filled joint paper. Naturally, the massive size allows you to roll some mambo js.
You can never go wrong with filters, and these rolling papers do come with those handy-dandy tips. Stop digging through your wallet for an old business card and smoke professionally with joint tips. (If you'd like to get some extra tips just to carry around, they can be found here.)
You know Wiz would never be left without a bomb leaflet of the best rolling papers and some tips. Get with the rest of the stoners and be prepared.
---
10. Bob Marley Rolling Papers – $7.99 for 300 leaves
Pros:
Cons:

Amazing quality for price
No "paper-y" taste
Provide a slow burn
Very easy to roll

Can burn unevenly
Glue's strength diminishes over time
Bob Marley will forever and always hold a special place in every stoner's heart. He preached love, kindness, and understanding.
It would be doing a disservice to cannabis to not include a rolling paper tributing Mr. Marley himself. Even though he died more-than-30-years ago, we can still smoke to his memory.
These rolling papers truly embody his spirit. This six-pack is made in Spain, of only the finest hemp. It even includes an awesome reminder: each pack includes a little note when there are five papers left.
A quality, slow burn allows you to truly enjoy your smoking experience. Connect with Bob Marley with these awesome joint papers.
---
11. Trip Clear Rolling Papers – $6.47 for 200 leaves
Pros:
Cons:

Has practically no taste
Allows you to see your greens burn – different smoking expereince
Compatible with tips & fiters
100% biodegradable – totally tree-free

May get crunchy as it burns
Can potentially uncurl
---
As far as joint papers go, you can count on a number of things. The most obvious is the opacity; many aren't see-through.
But, there are a number of transparent rolling papers available, allowing you to see your greens, as they burn down.
One of these products are the Trip Rolling Papers.
Unlike many other papers on the market, these babies are made with a tree-free version of material. More specifically, they use Asiatic Cotton Mallow, as their base.
This allows for thinner, clearer papers. Because of their material, they're also 100% biodegradable, and virtually taste-free.
Should you prefer to user filters or glass tips, these papers are compatible with both.
Opt for a new smoking experience, with clear rolling papers.
---
Heavy, Inc. is a participant in the Amazon Services LLC Associates Program, an affiliate advertising program designed to provide a means for sites to earn advertising fees by linking to Amazon. Our product recommendations are guided solely by our editors. We have no relationship with manufacturers. Follow all local laws in your area.