Here we are for the final, real-time, live debate fact check of Republican presidential candidate Donald Trump in the 2016 Presidential campaign season. Following the debate between Trump and Democrat Hillary Clinton tonight — Wednesday, October 19 — at the University of Nevada-Las Vegas, the candidates will have just 19 days left on the campaign trail before voting in all 50 states takes place on November 8.
We hope you'll stick around throughout the debate tonight, which gets underway at 6 p.m. Pacific Time in Nevada, 9 p.m. Eastern, and will run for what promises to be 90 bruising minutes for both candidates. Reload the page frequently and scroll to the bottom to read the latest fact checks.
For Trump, who is staring at a gaping 6.7 percentage point deficit to Clinton in the polls, according to the Huffington Post Pollster.com average of all national polls, and a full seven points in the FiveThirtyEight.com forecast, the third debate appears to be life-or-death as far as his hopes for winning the presidency are concerned. If he can't land a knockout blow on Clinton in the third debate, less than three weeks would be an extremely short time to change the minds of millions of voters simply with TV ads and rallies.
Of course, Trump has claimed that the election will be "rigged" against him by widespread voter fraud anyway, a claim that fact checkers have already judged to be completely false.
Trump unleashed a tweet storm on his Twitter feed Wednesday afternoon, in which he seemed to telegraph many of his potential attacks against Clinton, most of them centering around the release of about 12,000 stolen emails from people on her campaign staff, through the WikiLeaks web site.
In addition to our own fact checks, we'll be sharing the work of some of the most prominent fact checkers in the business of facts. Washington Post fact checker Glenn Kessler will be hard at week, posting fact checks on his Twitter feed at this link.
The nonpartisan group FactCheck.org will also be live throughout the debate. Their Twitter feed with frequently updated fact checks can be found by clicking here. PolitiFact, another nonpartisan group, will also post fact checks via Twitter at this link.
Wired Magazine will also be conducting a real-time fact check on its live blog which can be accessed by clicking here.
Debate moderator Chris Wallace of Fox News has already signaled his reluctance to do any live fact checking on the air, saying that he does not see himself as "a truth squad." So please check back with this page when the debate gets underway to see how Trump measures up against the facts.
---
---
---
Trump made a number of claims on his Twitter account Wednesday afternoon, outside of the WikiLeaks hacks. For example, he said that Obamacare has caused 250,000 people to lose health coverage in North Carolina.
Fact: Trump is shading the truth heavily about the situation in North Carolina.
United Healthcare and Aetna Health, Two of the three insurers, who cover about 250,000 North Carolinians between them, are pulling out of the state's health insurance exchange created under the Affordable Care Act. One insurer remains, and state residents may buy health insurance through that firm, Blue Cross Blue Shield. But the lack of choice is a serious concern in a state where about 600,000 people signed up for insurance through the Obamacare exchanges, one of the highest totals in the country.
Across the country, however, more than 60 percent of Americans who want to buy coverage through the exchanges can choose among at least three insurers.
---
---
---
---
Trump said that Clinton would effectively destroy the Second Amendment.
Fact: Clinton has advocated gun control, but has supported the Second Amendment saying "I think what the court said about there being an individual right is in line with constitutional thinking."
"I'm not looking to repeal the Second Amendment. I'm not looking to take people's guns away. But I am looking for more support for the reasonable efforts that need to be undertaken to keep guns out of the wrong hands," Clinton told CNN.
---
Trump said that Chicago has the "toughest gun laws" in the United States.
Fact: Chicago police say that's not true. "We don't have strict gun laws that hold people accountable," said police spokesperson Anthony Guglielmo.
University of Chicago Crime Lab researcher Roseanna Ander said that Chicago's gun laws are comparable to Los Angeles and New York.
---
Here's Trump saying that women should be punished for obtaining abortions.
---
Out of 11.2 million undocumented immigrants in the United States, 121 who were released from immigration custody later committed crimes.
"On the issue of immigration our policy should not be informed by our collective outrage about one man's conduct," California State Attorney General Kamala Harris has said.
About five percent of the United States prison population consists of undocumented immigrants.
---
---
Trump says that Clinton "wanted the wall in 2006."
Fact: Clinton supported the Secure Fence Act of 2006, which built about 700 miles of fencing — not exactly a "wall," but definitely a barrier — at certain points along the border.
---
Clinton just confirmed that the WikiLeaks transcript of one of her speeches to financial organizations was authentic.
---
---
Trump now claims he doesn't know Vladimir Putin.
Fact: "I got to know him very well because we were both on '60 Minutes,' we were stablemates, and we did very well that night," Trump said of Putin in an earlier debate.
He also said earlier this week that if elected, he would consider consulting Putin as part of his transition to the White House.
---
Trump said Clinton was "wrong" to say that he would like other countries to get nuclear weapons.
Fact: Trump said that he would be fine with a nuclear arms race in Asia.
CNN's Wolf Blitzer asked Trump if he would approve Japan and South Korea obtaining nuclear weapons.
"You're ready to let Japan and South Korea become nuclear powers?" Blitzer asked.
"I am prepared to — if they're not going to take care of us properly, we cannot afford to be the military and the police for the world," Trump replied.
---
---
Trump said that U.S. intelligence agencies "have no idea" who was behind the hacks against Clinton's campaign and the Democratic National Committee.
---
Trump says that Clinton's tax plan would "double your taxes."
Fact: Most of Clinton's tax increases are confined to the upper one percent of American earners. Households making more than $730,000 per year would see an average increase of $78,000 per year. Lower and middle class taxpayers would not be affected to nearly as great an extent and would not raise any taxes on household making under $250,000.
---
---
---
---
---
Trump claims Clinton's State Department "lost $6 billion."
Fact: The claim has been widely debunked. According to the Washington Post, no dollars were lost, no taxpayer money was lost r misplaced, though some accounting errors were made that created that appearance.
---
A full list of all of the women who have accused Trump of sexual impropriety can be accessed at this link. None of the claims have been "debunked" as Trump claims.
---
Trump claims that Democratic agitators were paid to incite violence at Donald Trump rallies.
Fact: The claims come largely from a hidden camera video that showed officials of the activist group Americans United for Change making comments about having activists show up at Trump rallies wearing Planned Parenthood t-shirts, or shirts with other slogans that Trump supporters may get upset about.
Whether showing up wearing a Planned Parenthood t-shirt counts as "inciting violence" seems like a stretch.
In the video, Scott Foval, who has since been dismissed from Americans United for Change, claims that the Democratic National Committee and Clinton campaign paid him for his antics, but there is no corroborating evidence that such payments occurred.
There was allegation that Clinton or President Obama, as Trump claimed, were involved.
---
Here's a video of Trump saying that one of his accusers "would not be my first choice."
---
Here is the disabled reporter insulted by Trump, which Trump denied doing.
---
---
Trump is flatly lying about the Trump Foundation.
"The Trump Foundation has engaged in documented, flagrant acts of violation," Pamela Mann, formerly of the New York State Attorney General's office "That's really different."

---
Trump apparently blames Clinton fir his own avoidance of paying income taxes.
---
Trump claims that Warren Buffet takes the same deductions that he does, that allowed Trump to pay no income tax.
Fact: Warren Buffet paid $1.8 million in taxes in 2015 according to his own tax returns.
---
---
---
Trump claims that the leaders of ISIS "have all left" Mosul.
Fact: According to "solid" intelligence reported by Kurdish leaders, Abu-Bakr al-Baghdadi, the leader of ISIS, is currently hiding in Mosul alom=ng with at least one of his top lieutenants.
---
Trump continues to flatly lie about his position on Iraq.
Fact: He made public statements in favor of the war well ahead of the March 20, 2003 United States invasion of Iraq, which kicked off the Iraq War. In 2002 he told radio host Howard Stern that he supported invading Iraq. He supported the war as late as August of 2004, when an interview with Trump was published in Esquire — 17 months after the invasion.
---
Trump's claims about Mosul are bizarre. Since ISIS occupied the city in 2014, a population of about 2 million has been reduced by about half, a humanitarian crisis that will continue unless ISIS is expelled.
---
---
---
Trump said he would create "tremendous jobs."
Fact: A recent Wharton Business School reports said that Trump's plans would cost the country 690,000 jobs over the next decade.
---
Here is the $100,000 ad that Trump took out in the New York Times in 1987.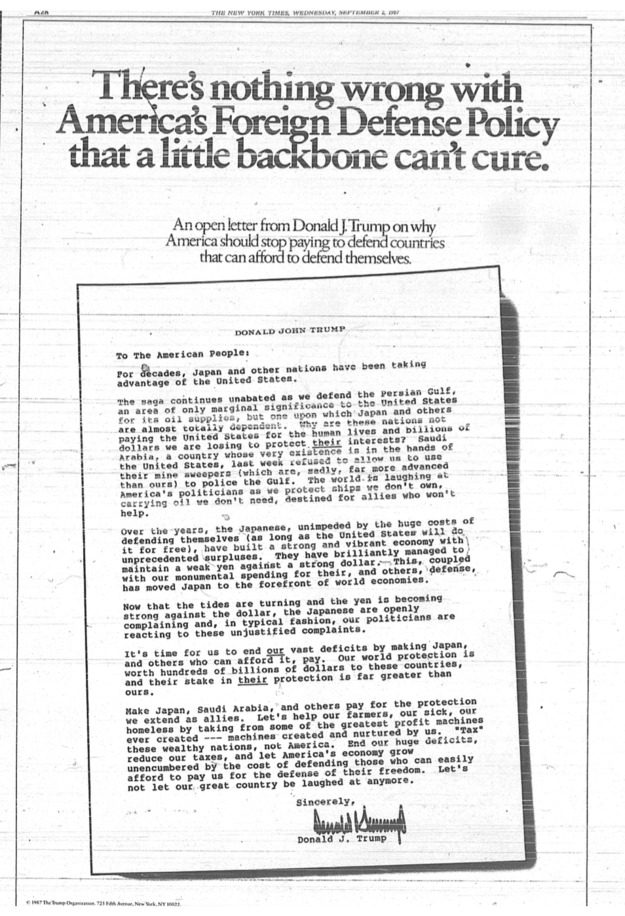 ---
Here is a chart of coming "Obamacare" increases from the Kaiser Family Foundation.
---
---
And finally, here is a chart of U.S. military spending since 1949.
Trump said that the military is "depleted," but while spending has declined after a sharp boost after 9/11, spending is not nearly as low as prior to the 2001 terrorist attacks.
---
---
---
---
That's it for the third and final presidential debate for 2016, folks. Thanks for sticking with us through this and the previous two debates. There won't be another one until 2020 — and we can't wait, can we?
More News
Loading more stories