Kobe Doesn't Flinch.2011-11-11T23:14:40.000Z
Everyone knows the famed gif of Matt Barnes ball faking into Kobe Bryant's face on an inbound pass in which Kobe doesn't even flinch.
This was Kobe Bryant in full "Black Mamba" mode as he doesn't even blink as the Orlando Magic's Matt Barnes pump fakes the ball right into his face.
A new overhead view has been unearthed showing Kobe isn't as fearless as he may seem.
From the on-court view, it looks like Kobe is some sort of cold assassin as he fearlessly takes a ball fake almost to the nose while he just sways back and forth unphased by it. At least that's how the legend went.
The new overhead angle reveals something fans probably don't want to see and that's that Matt Barnes was actually not even looking at Kobe, nor was he directly in front of him. The new angle shows Kobe was standing more towards Barnes' right instead of right in front him, revealing Kobe was not as fearless as it may seem.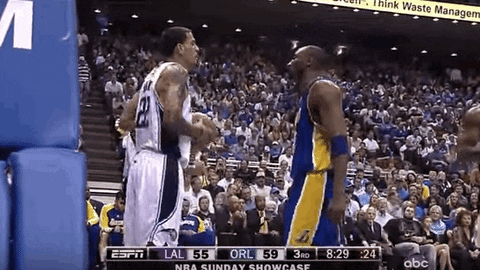 When you look at the clip in full motion it confirms even further Barnes wasn't even looking at Kobe. Yes, the ball did come close to Kobe's face and many people would have probably flinched there but it has created some cracks in the fabled legacy of the unflinching ball fake.
The game in question happened March 7, 2010 during the NBA's Sunday Showcase. While the Lakers ended up losing that game to the Magic 96-94 years later all fans are able to remember is this gif. This has long been one of the things Kobe stans point to as showing how fearless Kobe was.
With this new revelation, it appears Kobe fans will have to point to something else to show Kobe's "Black Mamba" mentality. Maybe they will point Kobe tearing his Achilles and then knocking down two free throws as his new marquee moment.
READ NEXT: Steelers Le'Veon Bell Trade: 49ers Inquire About RB
---