This week's episode of SmackDown Live opened with heartbreak as Naomi was forced to give up her Women's Championship due to injury. This was especially devastating considering that this was her first title win after seven years with the WWE, and she was to defend the title at WrestleMania 33, which is being held in her home state of Florida. Now, we're beginning to learn more about the extent of Naomi's injuries and the likelihood of her making a return in time for WrestleMania.
As reported by Dave Meltzer on today's episode of Wrestling Observer Radio, WWE officials initially thought that Naomi's injury, which she sustained during her Women's Championship match against Alexa Bliss at Elimination Chamber, was not that serious. This explains why WWE did not initially share news of the injury with fans, whereas when Seth Rollins was recently injured, an announcement was immediately posted on WWE.com and on the company's social media pages.
But two weeks later, leading up to February 21st's episode of SmackDown Live, it became clear that Naomi had not healed as was initially expected, and a decision was made for her to vacate the championship. However, Meltzer notes that the injury is not thought to be that serious and that it sounds like Naomi is currently expected to need two months to recover. This would mean she would not make it back to the ring in time for WrestleMania, but there's always the possibility that she pulls a John Cena and heals faster than is currently anticipated.
Naomi was injured while performing a split-legged moonsault at the very end of her match against Alexa Bliss at Elimination Chamber. As you can see in the GIF below, Naomi's leg hits Alexa Bliss' hip because Bliss was still rolling over as Naomi landed.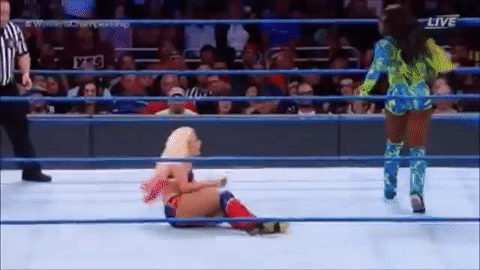 Naomi previously suffered an injury in May 2016, when she tore a tendon in her ankle. This took her out of action for a few months, and she returned in August with her new style and theme song.
Trinity Fatu has been performing with World Wrestling Entertainment since 2010. After a few years with NXT, she made her main roster debut in 2012, when she performed as one of Brodus Clay's backup dancers.
---