The Center for Science in the Public Interest has released their rankings for Xtreme Eating 2014, or the most unhealthy meals in America. The nine 'winners' are meals that are the highest in calorie, sodium, sugar, and fat, and they average about 2,000 calories per meal. Many of the meals had more calories than you're supposed to eat in one whole day, and more sugar and fat than you're supposed to eat in a few days.
The research group looks at menus of over 200 chain restaurants in America, and takes calories, fat, and sugar into account while they calculate rankings. The worst meal overall was from Red Robin, but Cheesecake Factory won as the most unhealthy chain, as it had three meals on the list of the top nine. To work off most of these meals, you'd have to walk for over 12 hours or swim for over 7 hours.
---
The Unhealthiest Meals in America, by Calories
1. Monster Meal – Red Robin

A peppercorn burger, bottomless steak fries and a salted caramel milkshake.
The Stats
3,540 calories
69 grams saturated fat
6,280 mg of sodium
38 tsp of sugar
---
2. The Big "Hook" Up platter – Joe's Crab Shack

Great Balls of Fire ("seafood and crab balls full of jalapeños and cream cheese coated in panko breadcrumbs…served with ranch")
Fish & Chips ("flaky white fish hand dipped in a classic Samuel Adams beer batter…served with fries")
Coconut Shrimp ("jumbo shrimp hand dipped in shredded coconut with pineapple plum sauce for dipping")
Crab Stuffed Shrimp ("plump shrimp hand stuffed with crab")
Hushpuppies
Coleslaw
The Stats
3,280 calories
50 grams of saturated fat
7,610 milligrams of sodium (five days worth)
---
3. Bruléed French Toast – The Cheesecake Factory

"Our Extra Thick Slices of Rustic French Bread Baked and Grilled Golden Brown. Topped with Powdered Sugar and Served with Maple- Butter Syrup with Bacon or Grilled Ham."
The Stats
2,780 calories
93 grams of saturated fat (almost a full work week's worth)
2,230 milligrams of sodium
24 teaspoons of sugar
---
4. The Big Slab of St. Louis-Style Spareribs – Famous Dave's

Spareribs, two sides (baked beans, French fries), corn bread muffin
The Stats
2,770 calories (more than a day's worth)
54 grams of saturated fat
4,320 milligrams of sodium
14 teaspoons of sugar
---
5. Prime New York Steak Contadina Style – Maggiano's Little Italy

Steak with: "two Italian Sausage links, Crispy Red Vesuvio-Style Potatoes, Roasted Red & Yellow Peppers, Roasted Mushrooms, Caramelized Onions, Sun-Dried Tomatoes, Steak Jus, and Garlic Butter."
The Stats
2,420 calories
66 grams of saturated fat (3+ days' worth of damage)
5,620 milligrams of sodium
---
6. Farfalle with Chicken and Roasted Garlic – The Cheesecake Factory

"Bow-Tie Pasta, Chicken, Mushrooms, Tomato, Pancetta, Peas and Caramelized Onions in a Roasted Garlic-Parmesan Cream Sauce"
The Stats
2,410 calories
63 grams of saturated fat (a three-day load)
1,370 milligrams of sodium
---
7. Signature Deep Dish Chicken Bacon Ranch Pizza – BJ's Restaurant and Brewhouse

"Grilled garlic chicken, Applewood smoked bacon, jack and cheddar cheese, red onions, diced tomatoes and a drizzle of ranch"
The Stats
2,160 calories
30 grams of saturated fat
4,680 milligrams of sodium (three days' worth)
---
8. Super Cinco Combo – Chevy's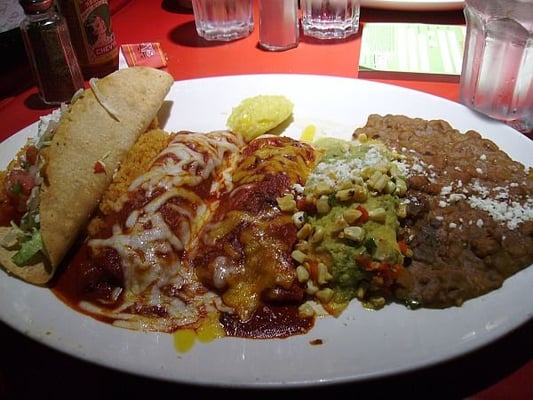 "Two enchiladas: one beef, one chicken, a Crispy or Soft Beef Taco, a hand-rolled Pork Tamale and a handcrafted Chile Relleno."
The Stats
1,920 calories
grams of saturated fat
3,950 milligrams of sodium
---
9. Reese's Peanut Butter Chocolate Cake Cheesecake – Cheesecake Factory

The Stats
1,500 calories
43 grams of saturated fat
21 teaspoons of sugar
---
Some of the protein and snack bars our there are worse for you than regular candy bars. Try one of these instead.
Click here to read more